So E
asy. So Good!
10 Minute Prep
Gluten/ Dairy Free
Meatless Option Available
Ingredients
1 Cup Soba Noodles( Cooked / Cooled )
1 Cup Organic Blueberries
1 Cup Cubed Chicken or Tofu
1/2 Cup Mandarin Oranges
1/2 Cup Julienne Carrots
1/2 Cup Fresh/Frozen Peas
1/4 Cup Diced Red Peppers
* Sesame Seeds Optional
1 Sign Up
vinaigrette
3 Tablespoons Soy Sauce
2 Tablespoons Orange Juice
2 Tablespoons Rice Vinegar
1 Tablespoon Vegatable Oil
1 Teaspoon Sesame Oil
1 Teaspoon Raw Honey
Combine Ingredients in Bowl
Whisk to Complete Dressing
Whisk
Sign Up
How to
In Large Bowl, Combine Soba Noodles and Ingredients
Add Fresh Vinaigrette To Taste Sprinkle Sesame Seeds
Sesame Seeds are Optional addipiscing elit.
Sign Up
Healthy Breakfast!
4 thin sliced bacon strips, nitrate free
4 eggs
1/2 small avocado, sliced or chopped
1 small cucumber or 1/2 an English cucumber, sliced
1 cup cherry tomatoes, quartered
1 cup button mushrooms, halved or quartered
1 tsp chopped chives
sea salt and fresh ground black pepper, to taste
.
Make it!
First, add bacon in a cold frying pan and place it on medium heat. Cook bacon until crispy, then set aside on a paper towel to drain the grease.
In the same preheated pan gently crack your eggs and cook until the whites are set, or just to your liking. Set aside on a plate.
Next, add mushrooms to the pan and stir fry for about 3-4 minutes. Season with sea salt and fresh ground black pepper, then add it to the plate next to the eggs.
Add the crispy bacon between, avocado, cucumbers, and cherry tomatoes. Sprinkle with chives and enjoy!
Advantages
Healthy eating and quick preparation! Serves two so adjust your ingredients accordingly! From the Food Network!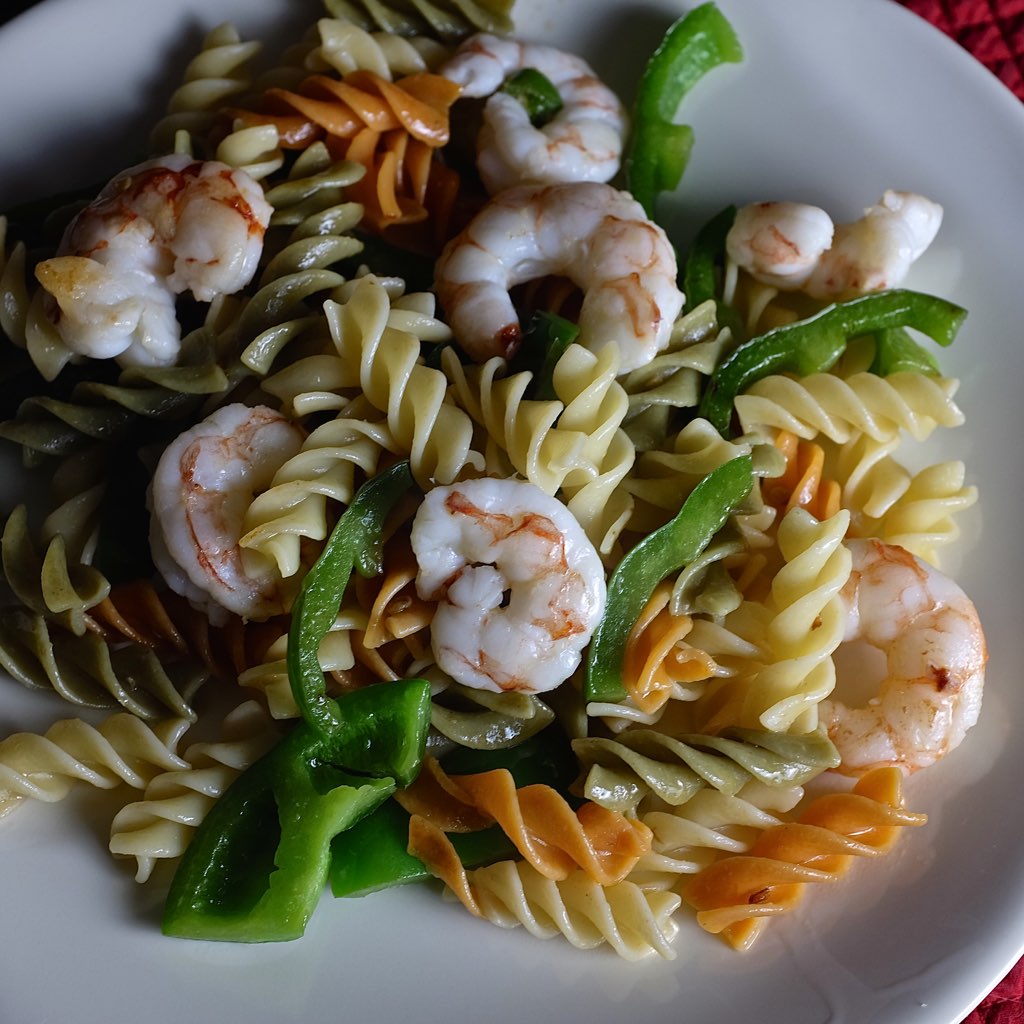 MAMA LOVES PASTA!
1/3 cup walnut halves
1/2 cup packed fresh basil leaves, plus a few sprigs, for garnish
1 clove garlic, smashed
1 1/2 cups chopped raw broccoli florets and tender stems (about 4 ounces)
1/4 cup low-sodium vegetable broth
1/4 teaspoon freshly grated nutmeg
1/4 teaspoon red pepper flakes, optional
Kosher salt
Juice of 1/2 small lemon (1 tablespoon)
2 tablespoons extra-virgin olive oil
3 tablespoons freshly grated Parmigiano-Reggiano, Romano or grana padano cheese
10 ounces whole wheat or tri-color fusilli
make iT!
Preheat the oven to 350 degrees F. Spread the nuts out on a small baking pan and toast lightly, about 5 minutes. Set aside to cool.
Pulse together 1/4 cup of the walnuts and the garlic in a food processor; add the broccoli, basil, broth, nutmeg, red pepper flakes if using, 3/4 teaspoon salt and the lemon juice, and pulse until just combined. Slowly drizzle in the oil through the feed tube with the processor running and puree until a slightly chunky sauce forms, scraping down the sides of the bowl as needed. Add 2 tablespoons of the cheese and pulse until incorporated.
Cook the pasta in a large pot of salted water according to the package directions. Drain, reserving 1/2 cup of the cooking liquid.
Toss the pasta with the pesto in the dry pot or a mixing bowl, along with some of the reserved cooking liquid. Add the remaining cooking liquid if needed and additional salt to taste.
Transfer the pasta to individual bowls and sprinkle with the remaining 1 tablespoon cheese. Chop the remaining walnuts and scatter on top. Garnish with basil leaves and serve.
Advantages
C'mon! It's pasta! And easy to prepare and delicious! From Rachel Ray.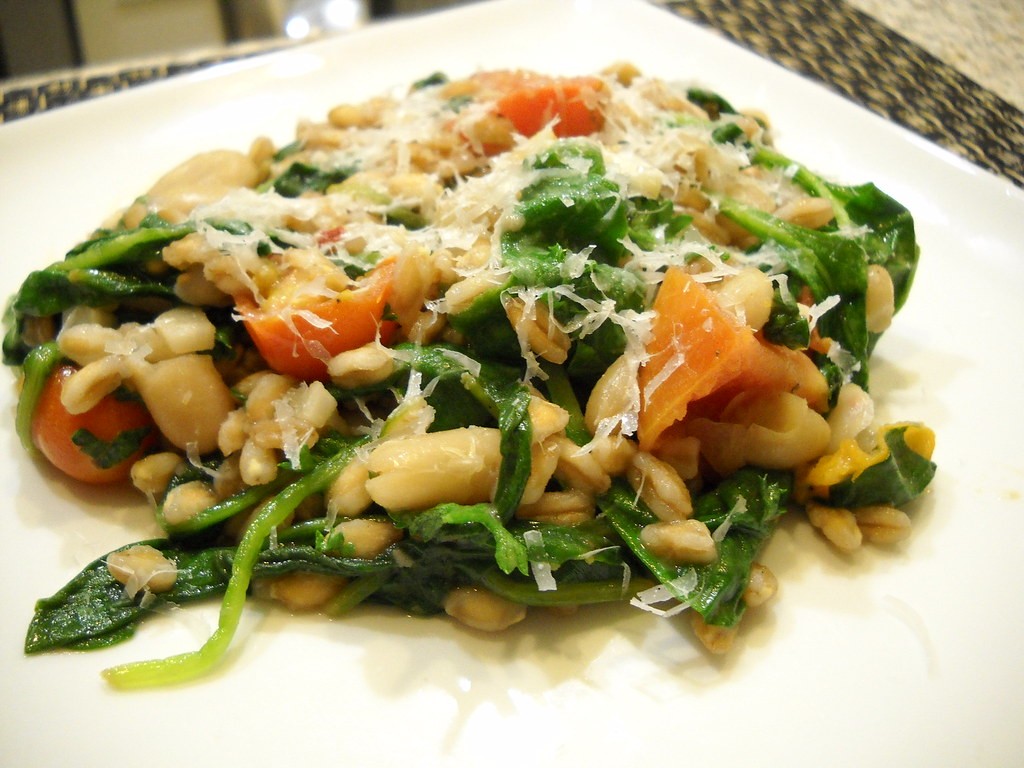 Farro Salad
1 cup farro (emmer wheat)
Sea salt
1/2 cup extra-virgin olive oil
1 1/2 pounds fresh shrimp, deveined, thoroughly rinsed and patted dry
Juice of 1/2 lime
Freshly ground black pepper
2 tablespoons chopped fresh mint leaves
1/2 lemon, juiced, seeds removed
One 15-ounce can cannellini beans, drained and rinsed well
1 bunch watercress, tough stems removed
Make it!
Soak the farro in warm water for about 20 minutes. Drain and rinse well. Pour into a medium saucepan with enough water to cover by 1 inch. Cover the pot and bring to a boil, and then reduce to a simmer. Add a pinch of salt and cook for about 30 minutes. The farro should be soft but have a slight chew to it. Drain to remove excess water, and then transfer to a bowl and toss with 2 tablespoons of the olive oil. Set aside.
Preheat the broiler.
Toss the shrimp with 2 more tablespoons olive oil, some salt, pepper and the lime juice. Spread in an even layer on a baking sheet and broil for 10 minutes, flipping halfway through. Let cool slightly.
Make the salad dressing by combining the remaining 1/4 cup olive oil, the mint, lemon juice and some salt and pepper in a small jar. Cover and shake to combine.
Toss together the farro, beans and watercress in a large bowl with half of the dressing. Season with salt and pepper. To plate, transfer the salad to a large platter and top with the shrimp. Serve with the remaining dressing on the side.
Advantages
Tastes Delicious. It's a healthy alternative the kids will eat and is relatively easy to prepare! From Rachel Ray.