into

The

Blue

!
The Recipe Collection
Featuring Fresh Blueberries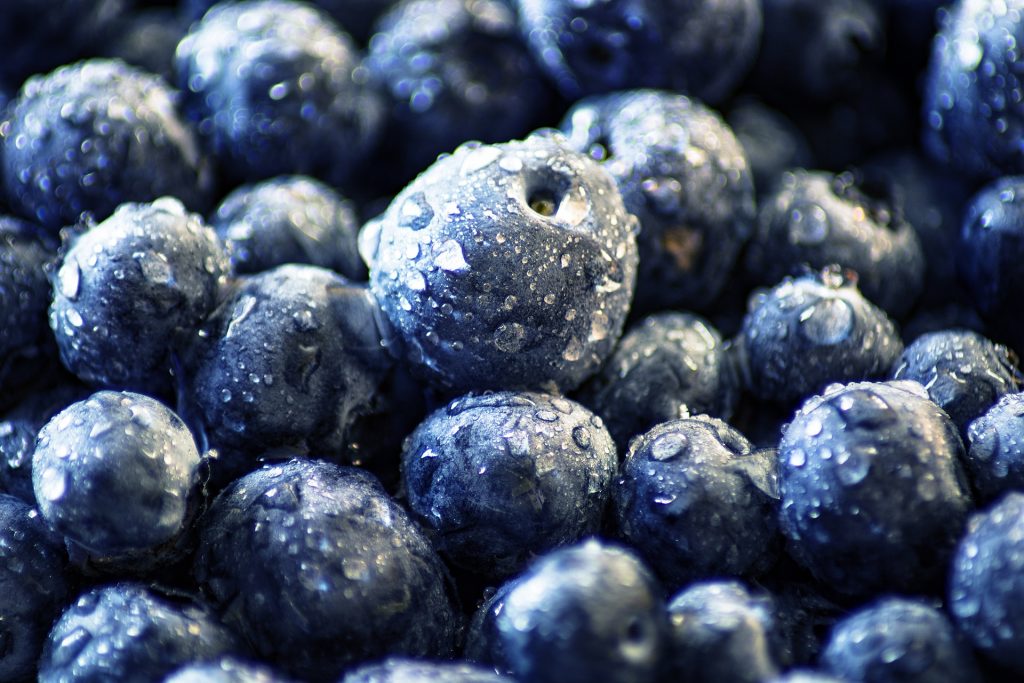 See What's Cooking at Mama's! Enjoy Fast Kid Friendly Recipes Featuring Classic Meals with a Twist! healthy Fast Organic Kid Approved Too!
super
Blueberry
Porridge
Quinoa and Blueberries are a Powerful 1-2 Punch Super Food for babies! Quinoa can be safely introduced to babies daily meals at around 8-10 months. Quinoa is a nutrient rich food. By adding blueberries, you compliment the quinoa rich nutrients adding a touch of natural sweetner and the "Super" Power of Antioxidents, Fiber, Vitamins A & C!
Ingredients
1 Cup of Finely Ground Quinoa Powder
1/2 Cup Blueberries par boiled and carefully mashed
How To…
Measure 1 cup of water on the stove to boil.
Measure 1 cup Quinoa Powder into your blender. Grind well, for about 2 minutes. (it's going to be very loud, but it's important to let the blender grind the brown rice down) If you have a coffee grinder, you may find it works better than a blender. Do not use a food processor as it does not grind grains well.
When the water starts to boil on the stove, turn the heat down to the lowest setting.
Sprinkle the ground rice into the water while stirring briskly with a wire whisk.
Cover the pot and keep it on low heat for about 10 minutes.
Stir frequently with the whisk to prevent scorching on the bottom and to remove lumps.
Irresistible chocolate

Zucchini

Muffins
Blissfully Sweet & Simple! Try these Super Easy to make Chocolate Zucchini Muffins with your little one today! Packed with healthy ingredients, blissfully rich chocolate and healthy greens too! Its a winner for even the pickiest little foodies! Bonus- we even managed to sneak in some fresh veggies!
Kid Approved
Gluten Free / Dairy Free / Grain Free
Paleo Friendly
30 Minute Prep/Cook Time
Ingredients
1 cup almond butter
2 eggs
1/4 cup maple syrup
1 tsp vanilla extract
Pinch of salt
2 tbsp coconut flour
1-2 tbsp cocoa powder
1 tsp apple cider vinegar
1/2 tsp baking soda
1 cup shredded zucchini
1-2 tbsp paleo approved dark chocolate, chopped into small pieces
---
How To…..
Preheat the oven to 375 degrees F. Line a muffin tin with cups. Squeeze any excess moisture out of the shredded zucchini. In a medium bowl, mix together the almond butter, eggs, syrup, vanilla, and salt. Stir in the coconut flour and cocoa powder. Add the vinegar and baking soda and stir to combine. Fold in the shredded zucchini.
Add about 1/4 cup of batter into each muffin cup. Sprinkle with the dark chocolate pieces. Lower the oven heat to 350 degrees F. Bake for 20-25 minutes, or until a toothpick comes out clean. Serve warm.
Register Now
Recipe Adapted from Dr. Ruth Yarin's Super Baby Food Book . As Mentioned in Mama's Guest Blog ( See Toddlers and Nutrition)
see More Recipes @ What's Cookin?Mamasposts.com
Into the
Blue!
10 Minute Meal
Kid Approved
1 Serving Size
Optional Toppings
Very
Berry- Kiwi

muesli

Breakfast

Warm Up Those Chilly Mornings with Almost "Insta -Ready" Oats and Fresh Organic Fruit

Muesli( Pronounced MYOO-Zlee) is a Traditional Swiss Breakfast We think Your Kids Will Love!
Ingredients
1 Cup Milk
1/2 Cup Old Fashioned Oats
1/4 Blueberries
1/4 Kiwi Sliced
1/2 Apple
Box Grater
Measuring Cup
Mason Jar
Spoon
how To….
Get Started:
In A Mason Jar or Cereal Bowl, add 1 cup Milk and 1/2 cup oats
Let milk oat mixture sit for 5 minutes
Add 1/4 Blueberries , Kiwi
Additional Berries Optional to taste! ( rasberries, strawberries, blackberries)
Grate 1/2 Apple ( grated on the large holes of a box grater. Do not cut apple in half before you grate it or you wont be able to hold onto apple to grate). Simply, grate one side of the apple until you get to the core.
Mix! Insta – Ready. Insta-Healthy!
top It Your Way
Make it Unique! Jazz it Up by Adding any or all of these quick toppings!
Nutty: 1 tablespoon chopped walnuts, pecans, or almonds
Seedy: 1 tablespoon pumpkin seeds, sunflower seeds, or flax seeds
Sweet: 1 chopped date
Fruitier: Swap in 1⁄4 cup diced fresh fruit, such as peaches or nectarines, for the berries — or use both!
Photo Credit: Braetschit Pixabay
Recipe: Chop Chop Magazine
So E
asy. So Good!
10 Minute Prep
Gluten/ Dairy Free
Meatless Option Available
Ingredients
1 Cup Soba Noodles( Cooked / Cooled )
1 Cup Organic Blueberries
1 Cup Cubed Chicken or Tofu
1/2 Cup Mandarin Oranges
1/2 Cup Julienne Carrots
1/2 Cup Fresh/Frozen Peas
1/4 Cup Diced Red Peppers
* Sesame Seeds Optional
vinaigrette
3 Tablespoons Soy Sauce
2 Tablespoons Orange Juice
2 Tablespoons Rice Vinegar
1 Tablespoon Vegatable Oil
1 Teaspoon Sesame Oil
1 Teaspoon Raw Honey
Combine Ingredients in Bowl
Whisk to Complete Dressing
How to
In Large Bowl, Combine Soba Noodles and Ingredients
Add Fresh Vinaigrette To Taste Sprinkle Sesame Seeds
Sesame Seeds are Optional .
Blue Water -melon Pizza
Blissfully Sweet and Simple! Mama's Take on Watermelon Pizza with notes of Sweet Fresh Blueberries and Lemon Zest Coconut Cream is the perfect blend of flavors for a touch of natural sweetness anytime!
Kid Approved
Paleo / Keto Friendly
10 minute to Bliss
Ingredients
Watermelon
Blueberries
Fresh Mint
Shredded Coconut

For lemon Infused Coconut Cream ..

1 cup cold *coconut cream (chill in fridge for at least 24 hours)
1/2 tsp pure vanilla extract
2 tsp fresh lemon juice
Zest of 1 small lemon
Up to 1 Tbsp raw honey or maple syrup, if desired
Fresh

Blueberries

,

Mint

( chopped)
Register Now
Recipe Adapted From PaleoinPDX
see More Recipes @What's Cookin @ Mamasposts.com